To maintain the highest quality standards for our products.
To provide the best customer service possible.
To promote an inclusive workplace and help the community.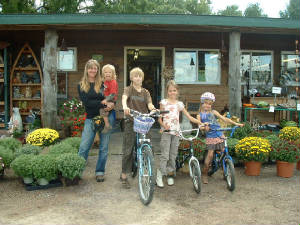 Welcome to CATTAIL CORNER! In 2001 my Husband our son Tanner and I decided that it was time to venture out and start our own business! Our goal was simple, to provide a shopping experience where people could enjoy coming to our store. A place where they could wander around and enjoy the beauty of the plants, landscape nooks and feel a sense of peace and rejuvination. In 2002, two weeks after our daughter Brenna was born, we had our grand opening! SO much has changed over the past 16 years, although our main goal is still the same, creating an experience for people, we have expanded and included many facets to our journey! "Helping pets and their people achieve a healthier, happier more abundant life!" Although we continue to learn and grow, we stay true to our values! So please join us on our journey of a lifetime!

Merle, Stephanie, Tanner, Brenna, Kiera, Kaeden, Tahlia and the staff of Cattail Corner!