Join thousands of satisfied customers, and help your dog to live a healthier and happier life with Agility Formula.
Agility supplement is a formula which takes into account the needs of the whole body, including all the parts that work with the joints.

* Powerful Antioxidants like Pomegranate Extract
* Pure Digestible Protein Sources
* Chelated Minerals for better absorption
* Five Live Probiotics (friendly bacteria)
* Omega 3 Fatty Acids for a healthy skin and coat
* FRESH your food is usually less than 6 weeks old
* Made in an APHIS certified USDA Plant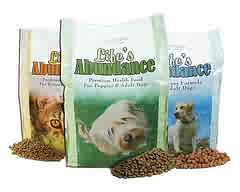 Life's Abundance vet formulated pet food, treats, whole food supplements and supplies are now available instore or online!
Have Never Been Recalled
Are Made and Delivered Fresh
Use NO Artificial Preservatives
Use NO Corn, or Wheat,Use NO By Products
Can be shipped fresh to your door direct from Life's Abundance pristine facilities.