Life's Abundance vet formulated pet food, treats, whole food supplements and supplies are now available instore or online!

Have Never Been Recalled
Are Made and Delivered Fresh
Use NO Artificial Preservatives
Use NO Corn, or Wheat,Use NO By Products
Can be shipped fresh to your door direct from Life's Abundance pristine facilities.
Join thousands of satisfied customers, and help your dog to live a healthier and happier life with Agility Formula.
Click on the photo to hear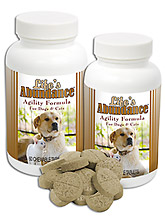 Agility supplement is a formula which takes into account the needs of the whole body, including all the parts that work with the joints.

You want the best for your pet and so do we.
That's why we partnered with Hartville to offer
you pet health insurance.
Pet Health Insurance can help you give your pets the best care available. These plans offer coverage for accidents, illnesses, and wellness care with great benefits:
80% reimbursement of usual and customary covered costs
Low $100 annual deductible per pet
Easy claim filing and online claim tracking
Make sure you won't have to choose between your pet's health and your finances with Pet Health Insurance. Get started online.